The fixtures for the group stage of the upcoming Fifa U17 World Cup have been announced after the official draw in host country the United Arab Emirates on 26 August.
Some 24 national teams that qualified for the World Cup learned who they will be playing against in the group stages of the contest, scheduled for 17 October till 8 November this year.
In the opening match of the tournament, Brazil will face Slovakia at the Mohammed Bin Zayed Stadium in Abu Dhabi, which will also host the final.
According to the soccer's world governing body, there will be a total of 52 matches in total hosted between six UAE cities, including Abu Dhabi, Sharjah, Dubai, Fujairah, Al Ain and Ras Al Khaimah.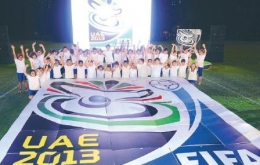 "This tournament will be one of a kind for the players and for all football fanatics," said UAE Minister for Culture, Sheikh Nahayan Mabarak Al Nahayan, who is also chairman of the local organising committee for the World Cup.
"It will be a unique and fun experience for everyone. The tournament will bring together people from all around the world. Sport brings people together and has the power to unite people of all backgrounds, of all colours, all races ... of all shapes and all sizes."
Rafael Salguero, chairman of the organising committee for the Fifa U–17 World Cup, added: "Football unites people all over the world as we can see right now here in this room. Representatives of at least 24 nations are here tonight, attending the first official step of the main event."
U-17 World Cup groupings:
Group A: UAE, Honduras, Brazil, Slovakia (games played in Abu Dhabi and Ras Al Khaimah)
Group B: Uruguay, New Zealand, Côte d'Ivoire, Italy (games played in Abu Dhabi and Ras Al Khaimah)
Group C: Croatia, Morocco, Panama, Uzbekistan (games played in Fujairah and Sharjah)
Group D: Tunisia, Venezuela, Russia, Japan (games played in Fujairah and Sharjah)
Group E: Canada, Austria, Iran, Argentina (games played in Dubai and Al Ain)
Group F: Mexico, Nigeria, Iraq, Sweden (games played in Dubai and Al Ain)