When Dil Wickremasinghe first kissed a girl, at the age of 17, she finally understood why she'd always felt like the odd one out in her conservative Sri Lankan home. For her, this experience was an exciting self-discovery – but when her parents learned of her sexuality, she was kicked out of the house.
And the country she once called home rejected her, too: if she wanted to succeed in her aspired career in the media industry at home, she would have to hide her sexuality.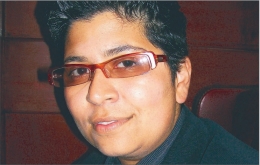 Abandoning her dream, Wickremasinghe left Sri Lanka behind and found more personal freedom in the Middle East, working for five years as a flight attendant in Bahrain. It was there that she met her former partner, an Irish woman who suggested the two move to Ireland.
"I wanted to move to a country where there was some level of inclusion when it came to LGBT issues," she tells Metro Éireann. "I heard in 1999, Ireland was pretty okay."
The following year, she arrived in Dublin during Pride Week – and spent her first weekend in the capital marching along with about 4,000 others in the then 'Dyke Parade'. This year, more than 30,000 people attended the inclusive parade through Dublin city centre on 29 June.
Though she wasn't able to attend the most recent parade, Wickremasinghe's memory of her first Pride experience was pivotal in the realisation of her potential.
"I remember, at that moment, I took one look at the thousands of people and thought, 'You know, I'm actually home'," she says. "This was the first time I actually felt like I wasn't a freak, I wasn't abnormal. I actually felt like another human being."
That afternoon, her previous assumptions about herself and her sexuality began to change. "From that moment on, I realised I could actually do anything I want. I didn't need to hold back because of my sexuality. I could actually be who I wanted to be."
Despite her first impressions, however, Wickremasinghe was somewhat disillusioned by the LGBT community in Dublin – some of whom discriminated against her for being an immigrant.
"Just because I was gay, it didn't mean that they accepted me," she says. "Because I was a migrant, that was an issue. I remember feeling there was friction and the only place actually that I ever experienced face-to-face racism in Ireland, sadly, is in a gay bar."
Wickremasinghe laments that there was no one in the community she felt she could identify with. "And then there [was] no one in the migrant community that I felt accepted me. So I felt there was an element of, you know, an 'I have to be on my own' type of thing. I was on my own."
BUT 13 YEARS have passed since those difficult first days, and Wickremasinghe has now successfully integrated in the fabric of life in Dublin. In 2003 she established the Gay & Lesbian Union Éire (Glue), an independent group that has aided over 500 LGBT migrants in relationships with Irish citizens who were struggling to become naturalised. Their public pressure helped bring about new legislation that puts LGBT migrants in recognised civil partnerships on the path to citizenship.
Aside from her social entrepreneurship, Wickremasinghe is a radio broadcaster on Newstalk 106-108, hosting her award winning talk show Global Village, and is also a comedian and actor.
Over the years, Ireland has become her home and the country has provided her with a sense of freedom and belonging. And as a prominent migrant figure in the LGBT community, she says will continue to push for the acceptance of LGBT migrants throughout the country.
"All I can keep doing is shouting and doing what I do," she says, "hoping something will change."