I Leithinis na Crimé a thosaigh an t-achrann idir an Rúis agus an Úcráin ag dul i ngéire. Bhí ceist na Crimé ina cnámh spairne ó thit an tAontas Sóivéadach as a chéile, agus thóg sé tamall maith i dtús na nóchaidí an cheist sin a shocrú. Anois, mar is eol dúinn, chuir Vladimir Putin an cheist in athuair.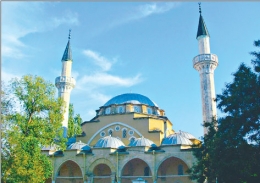 Is fíor dó nach raibh an Chrimé ina cuid den Úcráin mar aonad riaracháin riamh roimh na caogaidí, nó b'ansin a rith le Nikita Khrushchov, a bhí ar an bhfear ba mhó cumhacht san Aontas Sóivéadach san am, an leithinis a fhágáil faoi rialtas na hÚcráine. Ansin ní raibh san Úcráin ná sa Rúis ach cúigí de chuid an ollstáit Shóivéadaigh, agus ní chreidfeadh aon duine go mbeadh dhá stát difriúla iontu an lá ab fhaide anonn. Dealraíonn sé nach gcreideann Putin inniu féin é.
I dtús báire ba stát Turcach, Muslamach í an Chrimé: nó Cánacht na Crimé. Ba í Tatairis na Crimé teanga na leithinise, agus maidir leis an rítheaghlach, chuaigh fréamha na gCán siar go laethanta an Mhathshlua Órga, an impireacht a bhunaigh an taoiseach Mongólach Geingeas Cán féin lena lá. Bhí Cán na Crimé ina ghéillsineach do Shabhdán na Tuirce, ach má bhí, bhí sé an-neamhspleách i gcúrsaí polaitíochta, an polasaí eachtrach san áireamh.
Ansin shealbhaigh Impireacht na Rúise an leithinis. Bhí impirí na Rúise ag cur cogaidh ar na náisiúin Thurcacha agus ar Impireacht Otamánach na Tuirce riamh, agus dá réir sin bhí cúigí nua Turcacha nó Tataracha ag titim leis an Rúis in imeacht na mblianta – an Chrimé ina measc sin.
De réir a chéile d'iompaigh na Tataraigh ina mionlach ina dtír féin, agus Rúisigh is 'plandóirí' eile ag tonnadh isteach, na sluaite síoraí acu. Sa naoú haois déag rinne Cogadh na Crimé – an cogadh céanna a thug spreagadh don fhile Alfred Tennyson an dán cáiliúil a scríobh faoi 'Ruathar an Mharcshlua Éadroim' – rinne an cogadh áirithe seo léirscrios timpeall na leithinise agus chuaigh cuid mhór de na Tataraigh ar imirce go dtí an Tuirc, ó bhí teanga intuigthe agus cultúr gaolmhar ansin.
Nuair a bhí Stailín ag rialú an Aontais Shóivéadaigh, díbríodh Tataraigh na Crimé go dtí an Úisbéicestáin i bhfad soir – an t-iomlán dearg acu, an náisiún go léir. Ní bhfuair siad cead abhaile ach sna hochtóidí, nuair a thosaigh polasaí na peireastráidhce faoi cheannas Mhikhail Gorbachov. Fuair cuid mhór acu bás leis an gcruatan le linn na díbeartha agus ar deoraíocht sna críocha coimhthíocha, agus nuair a d'fhill siad abhaile, ní raibh a gcuid seantailte ar fáil dóibh – b'éigean dóibh tailte nua a thabhairt chun míntíreachais agus a saol a atógáil ó bhonn aníos. D'éirigh leo dul chun cinn a dhéanamh san Úcráin neamhspleách, áfach, agus iad réasúnta sásta leis an stát nua.
Anois, tá an chuma ar an scéal go bhfuil an seanghadaí ag iarraidh an Chrimé a sciobadh chuige arís. Tá Vladimir Putin barúlach gur 'tubaiste gheopholaitiúil' amach is amach a bhí ann nuair a thit an tóin as an Aontas Sóivéadach. Maidir lena lán dreamanna beaga eitneacha cosúil le Tataraigh na Crimé áfach ba é an tAontas Sóivéadach an tubaiste, agus dá dtiocfadh an tAontas Sóivéadach ar ais, bheadh olltubaiste eile ann.
Mé féin? Is fearr liom cluas a thabhairt do na Tataraigh i gceist na Crimé, agus is éard a deir siadsan ná gur fearr leo an Úcráin ná an Rúis, go háirithe má tá an Rúis á rialú ag fear a thabhaigh a dhintiúirí i seirbhís chruálta 'slándála' an Aontais Shóivéadaigh.

Scríbhneoir Fionlannach agus Gaeilgeoir é Panu Höglund agus staidéar déanta aige ar an Léann Gearmánach, Polannach agus Rúiseach.


The present conflict between Russia and Ukraine has begun to escalate in Crimea – a region that was a source of unrest amid the demise of the Soviet Union, not diffusing till the end of the 1990s. However, as we well know, Vladimir Putin has revived the conflict.
It is true that Crimea was never an administrative part of Ukraine before the 1950s, when it occurred to Nikita Khrushchev, back then the mightiest man of the Soviet Union, to give the peninsula to Ukraine. At that time Ukraine and Russia were just two provinces of the Soviet super-state, and nobody would have believed that they'd end up two different countries. It seems that Putin still doesn't believe it.
In the beginning, Crimea was a state inhabited by Turkic Muslims: the Crimean Khanate. Crimean Tatar was the language spoken in the peninsula, and the roots of the Khan dynasty went back to the days of the Golden Horde, the empire created by the Mongolian chieftain Genghis Khan. The Crimean Khan was a vassal of the Turkish Sultan, but he was relatively independent, even in his foreign policy.
Then the Russian Empire conquered the peninsula. Russia's emperors had been waging wars against Turkic nations and the Ottoman Empire (now Turkey) since time immemorial, and accordingly, new Turkic or Tatar provinces were added to the Russian empire – among them Crimea.
By and by the Tatars turned into a minority in their own country, with Russians and other 'planters' coming in their thousands. In the 19th century, the Crimean War – the very same war that inspired the poet Alfred Tennyson to write his verses about the "Charge of the Light Brigade" – greatly devastated the peninsula, and many Tatars emigrated to Turkey, where the language and culture were similar enough.
When Stalin was ruling the Soviet Union, Crimean Tatars were forcibly removed to Uzbekistan – every single one of them, the whole nation. They were not allowed to return before the 1980s, when Mikhail Gorbachev's perestroika policy was introduced. Many of them died from the hardship of displacement and exile in strange places, and when they came back their old lands were not available, and they had to reclaim land and rebuild their lives from scratch. Nevertheless, they were able to make progress in independent Ukraine, and they are reasonably happy with the new state.
Now it looks like the old thief wants to get Crimea back. Vladimir Putin is of the opinion that the demise of the Soviet Union was a great 'geopolitical disaster'. For many small ethnic groups such as the Crimean Tatars, though, the Soviet Union was the disaster, and if it came back, that would be another catastrophe.
Myself? I prefer to listen to the Crimean Tatars, and what they say is that they prefer Ukraine to Russia, especially to a Russia ruled by a man who won his spurs in the cruel 'security' service of the Soviet Union.

Panu Höglund is a Finnish writer and Irish language activist with a degree in German, Polish and Russian Studies.