Minister of State for Overseas Development Peter Power TD last week launched a recruitment drive for the Irish Aid Rapid Response Corps (RRC). The RRC is a roster of skilled and experienced volunteers available to deploy at short notice to humanitarian emergencies anywhere in the world.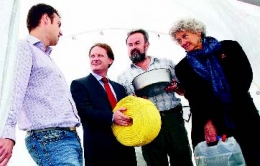 Corps members are dep-loyed to Irish Aid's humanitarian partners, providing specialised skills essential to their emergency operations.
"Since the RRC was first launched in 2007, there have been 67 deployments to humanitarian emergencies in 23 countries," said Minister Power. "Corps members are making a valuable contribution to saving lives and rebuilding the livelihoods of people affected by emergencies around the world."
Two members of the RRC travelled to Haiti this weekend, bringing the number currently deployed in the country to six.
"These highly-skilled volunteers are making a crucial contribution to the international recovery effort and working hard to respond to the needs of those affected by the devastating earthquake of 12 January," the minister added.
According to the Department of Foreign Affairs, three of the six RRC members – an ICT expert, an electrical engineer and a civil engineer – are working with the UN World Food Programme (WFP); another is providing support to the UN Office for Humanitarian Affairs (OC-HA); and two logisticians are working respectively with Irish aid agencies Concern and Goal.
Minister Power said: "While we have deployed six corps members to Haiti since the earthquake, there are 11 other members serving in Afghanistan, Chad, Colombia, Democratic Republic of Congo (DRC), Kenya, Philippines, Sierra Leone, Sri Lanka and Sudan."
The minister also announced that he has approved €1m in funding to finance the operation of the RRC for 2010.
He said: "We are seeking experienced logisticians, public health and humanitarian co-ordination experts and engineers, particularly those with a water and sanitation background.
"We are also keen to recruit volunteers with a second language and French speakers are particularly in demand."
Minister Power explained that the RCC this year has a focus "on civil-military co-ordination experts, an area of expertise in which I believe Ireland can develop a niche. I also want to recruit information management experts.
"We have seen, most recently in Haiti, that experts who can collate, analyse, map and present accessible information in emergencies are very much in demand among our humanitarian partners."
He concluded: "For Irish Aid, the corps has become an increasingly important means of responding to international emergencies."

More information about the RRC recruitment drive can be found on the Irish Aid website at www.irishaid.gov.ie. The closing date for applications is 5 March 2010.