This recipe for sweet and sour fish comes from eastern China and serves from four to six.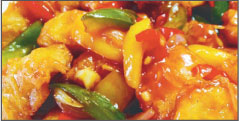 Ingredients:
500g white fish fillets (such as cod, haddock or sea bass)
125g mangetout
1 bell pepper
1 tbsp fresh ginger, finely chopped
2 tbsp spring onions, sliced diagonally
Oil for deep frying
For the marinade:
1 tbsp salt
1 large egg white
1 tbsp cornstarch
For the sauce:
250ml chicken broth
1 tbsp light soya sauce
1 tbsp Chinese rice wine (or dry sherry)
2 tbsp tomato puree
3 tbsp rice vinegar (or any wine)
3 tbsp granulated sugar
1 tbsp cornstarch slackened with 2 tbsp water

Rinse the fish fillets, pat dry and cut into 4cm squares. Marinate the fish to the egg white and salt ingredients, using your fingers to mix in the ingredients and adding the cornstarch last. Leave to marinate the fish for at least 15 minutes.
In a bowl, mix together the chicken broth, soy sauce, rice wine, tomato puree, vinegar and sugar. Blanch the mangetout in boiling water until they turn bright green, then plunge briefly in cold water and drain thoroughly. Cut the bell pepper in half, remove the seeds and cut into slivers.
Heat the frying oil in a wok to between 180 and 190 degrees Celsius. Add the marinated fish cubes and deep-fry until they are golden brown. Remove and drain on paper towels.
Remove all but 2 tbsp of oil from the wok, then add the ginger and spring onion and stir-fry until aromatic, about 30 seconds. Add the mangetout and stir-fry for a minute before adding the red bell pepper.
Push the vegetables up to the sides of the wok and add the sauce in the middle, then bring to a boil before adding the slackened cornstarch and stirring to thicken.
Serve the fried fish cubes on a platter, covered with the sweet and sour sauce and vegetables.