An Israeli historian has reiterated his call for a one-state solution as the only credible answer to the Israeli-Palestinian problem.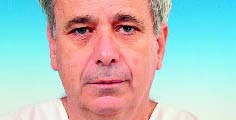 Speaking in Dublin last Saturday following an Irish Anti-War Movement public forum, Dr Ilan Pappé also said that the one-state solution – which advocates a single state in Israel, Gaza and the West Bank with citizenship and equal rights for all – would help to avert the mass destruction of property and loss of life.
"It's the only solution that deals with the real problem in Palestine, in the sense that the main problem in Palestine is the refugee problem," he told Metro Éireann, referring to the exodus of Palestinian Arabs during the creation of the state of Israel in the late 1940s, whose descendants now number in the millions.
Dr Pappé said there is neither a solution for these refugees outside of Palestine, nor in the current Palestinian territories. "So if you want to return the refugees, at least give them the right to return, you need to do it in one state."
He continued: "If you want a state based on equal rights, you cannot have the Zionists' ideology as the basis for respect, You need a state where there's a democracy, where everybody is treated equally, and that is only possible in one state. You cannot have one state which is a democracy and another state which is not."
Dr Pappé, who said he is currently living in self-imposed exile in England, also commented: "The Israeli colonisation settlement is spread over the so many parts of West Bank that there is no space, even if you wanted, for a Palestinian state. So it's better to change the regime than to start moving people around."
Asked how Israelis would react to his message, Dr Pappé said: "They would not like it, they wouldn't like a two-state solution either. Israelis would resist any solution that would undermine their supremacy. I think the only thing they would respond to is pressure from the outside world."
Earlier on Saturday, Irish Anti-War Movement chair Richard Boyd Barrett told the public forum of plans to organise a co-ordinated campaign across the country to boycott Israeli products in condemnation of the country's treatment of Palestinians.
Other speakers at the forum included leading Palestinian academic and activist Dr Ghada Kharmi, Jewish socialist and author John Rose, and Zoe Lawlor of the Gaza Freedom March.