Haute property
Zambia-born actress turned designer Diana Mukushi is one resilient and tough lady, with a strong passion for creating uniquely crafted designs. Influenced at a young age by her late father and sister, Diana's talent for and connection to fashion design was further illuminated by her very supportive husband. She also loves swimming and movies, pastimes that fuel her creativity as evidenced by her eponymous label…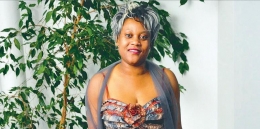 Hi Diana! Can you tell us a bit about yourself?
I have lived in Ireland for about 12 years. I arrived with a work visa and worked for Bewley's Café. I later went into healthcare when I did a diploma in psychology and sociology at Dublin City University. I work with people with intellectual disabilities. Behind all this, I continued making dresses for family and friends.
My late sister back home was a dressmaker. She used to make clothes for people and I would watch her doing it. My father was also an upholsterer; we used to go to his workshop during school holidays and weekends to help out making scatter cushions. I would say handwork was imparted to me at an early age. Though that dwindled when my sister and my dad died and I came to work in Ireland.
How did you get interested in a fashion design career?
From school back in Africa I used to do needle work. I remember the teacher taking my work and showing it around. At the time I did not realise that was going to be my career.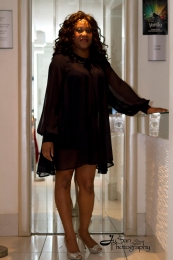 What is your educational and professional background, and how do you feel it prepared you for a career in design?
I studied in Grafton Academy of Fashion & Design. I have also worked with Lexy Mojo-Eyes, who is on the board of the World Fashion Organisation.
What happened after you finished college?
I had my first collection at Miss Africa, then I was involved in an accident and my hand was out of use for several years. But I still designed on and off.
Your spouse is very supportive of your career. In what ways?
When I met my husband, who was then my boyfriend, one day I was wearing this red dress and he said I looked beautiful. When I told him I had made it, that was it! He encouraged me to take it seriously and he even went and bought an overlocker for me, and a second machine. I have not stopped since. He helps as well whenever he can. My husband is hands-on; he helps around with the kids, even doing small things like sewing with pins.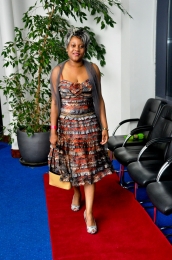 How did you come about the name for your label?
When I was doing a business course with Enterprise Ireland, I was assigned a very good mentor. I initially came up with the name Lady Dee Fashion House, but she thought that wasn't a good idea, and that I should look for a unique name. So together we came up with my surname, Mukushi.
What materials do you use?
I use different materials to produce my designs, as I cannot restrict myself in playing around with different fabrics. I love working with raw silk.
Do you outsource any of your design work or you do everything yourself?
I draft and create all my designs myself.
A typical design takes how many hours?
Each design varies with the detail, the shortest could be three hours but many take a week.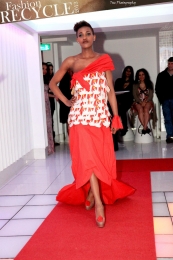 What does a typical outfit creation involve?
The design depends on what a customer wants, so I may have to do research, make a few sketches, look for the material, do cutting, etc. There is a lot involved.
What is your greatest design achievement?
My greatest achievement was when I won first prize in the Fashion Recycle competition in March 2013; I designed a dress made of milk cartons and red paper.
What separates you from other designers?
My designs are so different, as most of my designs come with a time investment. My techniques are time consuming and complex, but the impact I want on the garment cannot be missed.
What is the greatest fashion era, in your opinion?
During the Second World War, among all the troubles, pain, hunger, agony and death, people still created and produced marvellous designs.
What is your style? And who is your style icon?
My style is elegance, glamour and haute couture. My style icon would be Nicole Kidman.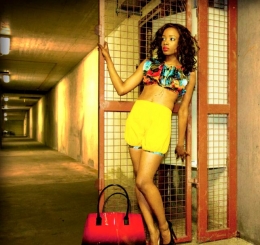 What is fashion, in your opinion?
Fashion is when you produce an amazing garment, inspired by your environment, although the lifespan of that fashionable garment will only last for about three years. Fashion is ever changing.
What do you most enjoy about a fashion career?
You are able to express yourself, make people look beautiful and to see a smile on their face.
What is your opinion of the Irish fashion industry?
The Irish fashion industry is growing and will continue to grow. There is a great amount of talent in Ireland. But materials are not cheap to buy, that is a great challenge in pricing. Also some colours are not available here, so as a result one resorts to the internet.
What skills are important in a fashion design career?
When one enters a fashion career there is a range of areas one needs to know about, from material design to garment design.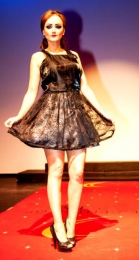 What advice would you give a fashion newbie or student looking to become a designer?
Just believe in yourself and what you do. Take criticism and analyse it and learn from it. Believe in yourself. Plan properly. If you don't know, ask. And do a lot of research.
What do you wish you had known before entering the fashion industry?
There is nothing really I feel I needed to know about fashion before I started, as I think the best lessons are learnt when you make mistakes on the job.
Where do you see your business in the long term?
I would like to see my work in boutiques worldwide.