Hats off to Georgina
Georgina Heffernan's life reads like something out of a storybook, something of a fantasy, something you only see on TV. She demonstrates the old adage that life is full of possibilities, and if you want something you should go for it, even if it means going into un-comfortable territory. Heffernan's dazzling design story is simply inspirational and admirable. The writer-turned-designer is an exemplary kind-hearted woman, and also an excellent teacher, and a generous cook – but first and foremost she's a milliner at Moxie Studios in Dublin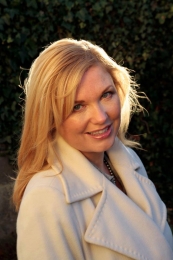 Growing up, did you always know you wanted to be a designer, if so, who were you influenced by?
I blame it on my grandmother. She was a very glamorous fashion designer who had immaculate nails, wonderfully styled hair – and she wore a fabulous hat every day. When I was a little girl I'd sneak up to her bedroom when no one was looking, and peek inside her wardrobe, which was packed full of evening gowns, fur coats and fabulous, glorious hats. There was every style from pretty party hats to delicate vintage hair ornaments. I couldn't wait to grow up so I could get to wear them too. I think it's odd, and sort of sweet, that the big antique table I design my hats on is the same old table my grandmother used to make her hats back in the 1930s.
Tell us about your training, and how you came to be a designer?
After a few years in art college, I became a fashion editor and over 10 years worked for some of the biggest publications in Ireland, including the Irish Tatler and the Irish Daily Mail. During the course of my career I met some amazing people; I was invited to Kate Moss's party in London and ended up dancing away with her and a few friends until the small hours – it was like a scene from Studio 54! I also worked behind the scenes on shoots with the likes of Vivienne Westwood, Macy Gray (I was her personal stylist) and Isabella Blow, as well as interviewing stars such as Cindy Crawford, Matthew Williamson, Karolina Kurkova and Diane Von Furstenberg, to name but a few.
It was a very exciting time, but after 10 years I felt burnt out, tired and emotionally unfulfilled. I stared to want something more. I had that itch to create and started off by doing a few night courses in fashion design and millinery. After that I did an internship with Piers Atkinson in London and the rest, as they say, is history.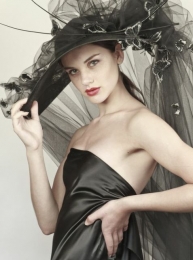 What projects have you worked on?
My last few collections have focused on vintage style millinery and classic themes, but now I want to really push the boundaries by creating pieces that are avant garde and conceptual. I'm working on a collection that combines metal with leather and latex with plastic, lots of bold pieces that are quite a departure from my recent work. But as a designer, I believe that it's important to prove just how versatile you are.
What inspires your designs?
I've always been a huge fan of vintage and that's something that's almost an unconscious thing, but I do try to step out of my comfort zone by creating things that are new and fresh. It's good to be able to challenge yourself. As for inspiration, well, there are so many wonderful designers out there but Piers Atkinson is on fire right now, and I love the fact that he can create the most daring and unique pieces for the likes of Lady Gaga and Paloma Faith, but he also has the skill to be able to craft a beautiful felt hat for Kate Middleton.
I also love Stephen Jones, because he is conventional yet avant garde, he experiments with the new but respects time honoured traditions. Jayne Taylor is amazing and such a fresh new talent, and of course Philip Treacy is a constant source of inspiration, constantly pushing creative boundaries.
Do you let critical acclaim or negative feedback affect you? What keeps you motivated?
I am very lucky insofar as I've been very well received. My business started when I posted a few pictures of hats that I made on Facebook and people just seemed really taken with them. From that one Facebook post, I got three boutiques asking to stock my designs. I was astonished but I learned a very valuable lesson about the power of social media, and Facebook in particular: you could be the best designer in the world but if no one knows about you, you'll never be a success.
What separates you from other designers?
I suppose the fact that I've worked as a fashion stylist and editor for almost 20 years previously gives me an edge in terms of anticipating trends and understanding the market. I'm also just naturally visually aware and very creative. I'm an exceptionally driven person and strive towards perfection. This means if a hat's not up to scratch, I bin it. Nothing leaves the studio unless I'm a little bit in love with it and would be sad to see it go.
Where do you source your materials from?
All over the place, really. I trawl the internet for unusual hat blocks – the best are to be found on eBay. But in terms of basic materials, there are a few companies in England that I like to order from.
What strategies do you employ when it comes to choosing the right people to shoot your collection?
I work with my brother, who is a fantastic fashion photographer, so it's always a joy working with him. Having worked as a fashion stylist, many of my close friends are models and makeup artists, so I always have a fantastic team to choose from. Casting the right model to showcase the hats is fantastic fun… so many fabulous faces to choose from!
What is your style?
It's sort of a New York sense of style: practical, casual, well-tailored. I have a lot of dark colours in my wardrobe, lots of grey, camel and black. Today I'm wearing skinny jeans and a grey jumper, but at the same time I also like to dress up. I go to a lot of events, so I've learned to feel comfortable in a pair of six-inch heels, it just takes a lot of practice. Red lipstick is also something I can't live without.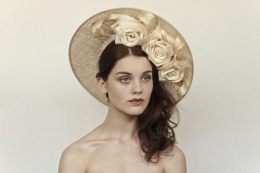 Who is your style icon?
Marlene Dietrich. I love that kind of masculine tailoring for women – I'm a big fan of suits, trousers and blouses.
What is your opinion on style or trends?
Style never goes out of fashion, that's why I tend to go for classic styles such as the Chanel look, the nautical trend, military styling or vintage looks. True classics are garments that have stood the test of time, are never out of fashion and look fabulous on just about everyone. As core garments in the average wardrobe, they can represent money well spent. After all, clothing is quite simple and has few rules. It's fashion that gets in the way, dictating whether things are in or out.
How has your experience as an editor prepared you for this new career path?
My experience as a fashion editor prepared me in many ways. I always have to be aware of trends and what's happening in the fashion world – sometimes months ahead. As a fashion editor, a lot of the job was putting looks together and predicting trends. There's no point in me creating a collection in emerald green if hot pink is the colour of the season. In many ways my work as a fashion editor prepared me to branch out into my career as a designer.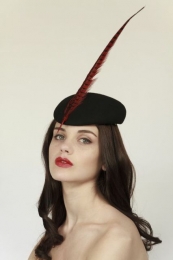 How would you describe the creative process?
The creative process has always fascinated me. Hats are, in essence, little sculptures for the head, and I see them very much as little works of art. I love the fact that each creation is totally different and I can be as daring as I wish.
What is your opinion of the Irish fashion industry?
When I started off working in the fashion industry, there were only a few designers that were being reported on, such as John Rocha and Louise Kennedy. They are incredibly talented, but I love to see a new generation of designers coming up such as Helen Steele and Niamh O'Neill. The new generation of Irish designers are astonishingly talented and I'm so inspired by them.
When you aren't designing, what else do you like to do?
I have written two e-books, A Question of Style and Glitterati. They have both been quite successful and the royalty cheques are very welcome when they pop through my letterbox! When I'm not making hats, I like to write and I'm working on a new fashion book at the moment, which I'm very excited about. To relax, I love to cook: food is love! All my best memories of good times with family and friends are in the kitchen, centred on a wonderful meal.
I like to experiment – at the moment my favourite dishes to make are Moroccan lamb tagine and yellow Thai curry. I make everything from scratch and use lots of fresh garlic, ginger and lemongrass in my dishes – my kitchen always smells amazing. After a long day designing in the studio I just love to chill out by taking time over dinner, and then sharing it with a few good friends and a glass (or two) of chilled white wine.
If you could make anything – where budget, resources or time are not an obstacle – what would it be?
I'd spend money updating my studio. I'd buy more hat blocks and millinery equipment, then lose myself in my work – only to emerge six months later with the finest collection of hats known to all humanity! I'd get Testino to shoot my latest collection and get the beautiful Kate Moss to model them. Then I'd take out an advertisement in Vogue!
What is the greatest challenge you've overcome in setting up your design career?
The greatest challenge I've had to face is funding my millinery line. It's fantastic that it's gotten such a great response, but it's difficult to fund the line before it's fully established.
What advice do you have for aspiring designers?
Do your own thing. Intern. Be original. Find your own style. Network ferociously. Don't look too hard at what other people are doing, just do your own thing and have faith that things will, eventually, come together – even if it's not the way you'd originally planned.
- Georgina Heffernan millinery can be purchased at Bow & Pearl in Ranelagh, Bonzie in Waterford City or through her studio at Moxie, Lad Lane, Dublin 2.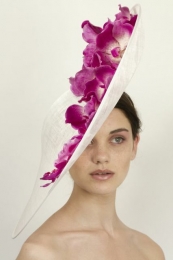 How to pick the perfect hat
Georgina Heffernan gave us some of her top tips for choosing the perfect headgear for you, and how to wear it well
- Full figures should go for wide brims. Large women look silly in little hats.
- Small woman get height from tall crowns. But don't let the brim dip too low – you'll look as if you're wearing a circus prop.
- If you wear glasses, don't let your hat fight with them. Think big hat, sleek frames: statement frames, understated hat.
- A brim that hides your neck from behind makes you look stumpy. Anyways, a glimpse of neck under a hat gives superior sex appeal.
- Avoid all stiff shapes in pastel-coloured straw that seem to break out all over Irish department stores like a nasty summer virus. A simple shape in a natural straw is so much better.
- Big hats are in this season, and feathered headpieces are out – and were banned from the Royal Enclosure at Ascot this year. As Philip Treacy recently quipped: "There's nothing fascinating about a fascinator."
- They don't all have to be designer. If you wear it well, you can be memorable by carrying off a humble trilby with style. The key issues are face shape and hair.
- Wide faces suit brimless, off the face styles, while square faces look good in peaked, baker boy caps. They will also get a lift from the narrow squared crown of a fedora. A narrow face needs a rounded full crown, such as a cloche.
- Big hat, understated dress. Cloche hat, long dress. Veiled hat, sleek dress. Trilby or fedora, trouser suit.
- There must be a symbiosis between your hat and your personality. Confident, stylish females wear hats. So do women who want to appear to be confident and stylish.
- You have to wear it as naturally as if you were born with it. If it makes you so self-conscious that you stoop or cower, you are better off hatless.
- Most hats look best when you put them on from the front, then tilt them sideways on your forehead to make sure as much of your face as you want to show is visible.