JUSTICE DEPARTMENT officials are considering an application from a child's court-appointed guardian to have his mother's deportation overturned.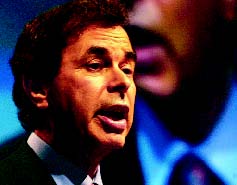 The matter involves a Nigerian woman who had been evading deportation and who was deported to Lagos in September 2009.
The woman's four-year-old son, born in Ireland but not an Irish citizen, had been temporarily taken into care after his mother was arrested at Dublin Airport.
According to Fine Gael's spokesperson on children Alan Shatter TD, the child had been properly cared for, and "prior to the airport incident, was never apart from his mother". The Health Service Executive (HSE) then made an application to the children's court for directions on the child's welfare. The court found that he should not be deported.
"Despite this, the [Justice] Minister went ahead with the mother's deportation," said Shatter. "Since August the child has been cared for in four different temporary fosterage arrangements with at least three different HSE social workers involved with the child."
Shatter noted there was "little doubt" that the mother was in the State illegally and had evaded deportation since 2005. "While this was unacceptable, it was not the child's fault and he should not be punished for it," he said.
Minister John Maloney, responding on behalf of Justice Minister Dermot Ahern in the Dáil, said that since the deportation, immigration officers had made "sustained efforts" to communicate with the woman in order to facilitate the return of her son to Nigeria.
"However, she has refused to co-operate, meaning that her son must remain in the care of the HSE until that position changes," he said. "I will put it this way: if the mother's intention was to be reunited with her son, she had every option to allow her son travel to Nigeria either ways."
Minister Maloney said the court-appointed guardian of the child has submitted an application to have the mother's deportation order revoked to allow her to re-enter the State to be reunited her son.
The application is under consideration by Department of Justice officials, he added.
Rosanna Flynn of anti-deportation group Residents against Racism (RAR) said she had encountered a number of cases where deported parents felt their children were "better off in Ireland".
Although not familiar with this particular case, Flynn said that going on previous incidents, the mother was doing what she thinks is best in terms of access to education and other services.
"Almost certainly she is concerned for the child's welfare and feels he will have a better life here," she said. "It's heartbreaking."
A department spokesperson told Metro Éireann that the application from the child's court-appointed guardian was made under immigration legislation.
"Any such application made would be examined in detail by officials in the Department of Justice, Equality and Law Reform who would make a recommendation to the minister as to whether the existing order should be 'affirmed' or 'revoked' with the minister making the ultimate decision."
The spokesperson said that in arriving at "repatriation related decisions", the Minister for Justice and his department take "all reasonable steps" to have families kept together so that they are "all repatriated at the same time thus preserving the family unit".