In this humourous non-fiction book, Guardian journalist Jon Ronson explores the worlds of insanity, psychiatry and the media. I liked Ronson's two previous books, and I expected this one would provide a convenient test to find out just which of the jerks I have to deal with in daily life are actually clinical psychopaths!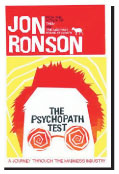 According to Ronson, absolutely everyone eventually latches on to this thought – and not entirely in vain, given that an estimated one per cent of the population are pyschopaths, and up to four per cent of those in powerful positions.
And therein lies the basic question of the book: Are we ruled by pyschopaths? And if so, do we fail to realise it because, unable as we are to accept the basic insanity of many political and economic rulers, we instead seek to rationalise irrational behaviour? Moreover, does our society even foster and promote psychopaths?
After nearly a decade of specialisation in international law, I'd give an unqualified 'yes' to all of the above, and as the chapters build through Ronson's interviews with former dictators, institutionalised psychopaths and star psychiatrists, I found myself bouncing around on my seat in joyous anticipation of someone finally clothing this gut feeling in hard facts.
And it's right then, just as Ronson winds up interviewing a particularly ruthless American CEO, that the book suddenly takes a different tack. Aren't we all a bit mad, Ronson queries, and hasn't the psychiatric profession sometimes been a bit overzealous in the past, with devastating results? Isn't all this purely mental evidence a wee bit Twilight Zone?
Something that was a pointed question suddenly gives way to diffuse meandering. An entertaining meandering, full of fascinating thoughts and facts, but one that somehow completely loses its edge. But this sudden muddling deviation into larger, more philosophical questions is really the only complaint I have.
Overall it's hilarious – and worth reading just for the description of the many acid trips that Canadian psychiatrists dutifully sent whole wards of psychopaths along. It's also genuinely thought provoking, and you have to admire any author who spent months, if not years, provocatively interviewing the crazy and dangerous.