Ordinary Dogs won't be to everyone's taste, not because it isn't interesting, but very much due to differing views of animals and their place in our lives – especially here in Ireland, where animals often seem to have little right to a happy life.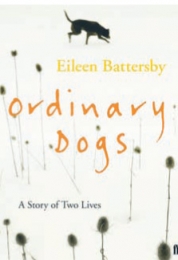 Being from Sweden and having been brought up with very similar attitudes to animals as the author, I very much enjoyed hearing about her life with her two dogs. In fact, I found myself on an emotional journey, and regularly shared the stories with my partner. There were a lot of similarities to our own life with our two crazy and wonderful rescue mongrels in these pages.
I must say, however, that at first I was not really keen on reading this book, even though I often agree with Battersby's book reviews in The Irish Times, as the subject seemed a bit too different from my usual fare. So I began with some trepidation, praying that it would not solely be a tract on the author's brilliance and the animals simply being a cute cover to adorn such a soliloquy, but also I hoped it would not be all about the dogs.
I was soon relieved. The book is very nicely written, and follows Battersby's career and private life on its ups and downs, with the dogs as constant companions and enhancers of her existence. It was lovely to see another person who finds such deep reverence for and trust in the part that animals play in our lives, and it was a joy to get to share that universe with Battersby for the short time that it took to read.
If the very idea of reading a book on this subject makes you cringe, or just makes you laugh, I would suggest as an alternative John Gray's Strawdogs, which uncovers some of the deep-seated reasons for people's negative attitudes towards animals, and how mislead those sorts of ideas can be. Perhaps after that you might be ready for this one, or in the least have a reason to rethink the issue.