Good Offices is Evelio Rosero's lurid and satirical attempt at exposing the happenings in one of the world's greatest social institutions, the Catholic Church. Our protagonist in this slim volume is a young hunchback, Tancredo, living in the presbytery of the parish church, whose duties include overseeing daily charity lunches for the town's poor and the needy, specifically the old and infirm, the destitute, the prostitutes, the blind – each group attended to on a given day.
It is a Thursday – the day for the old and infirm – but it so happens that the parish priest, along with his sacristan second-in-command, must visit a benefactor whose gifts to the church are at risk of being withdrawn. On this day, the parish's position of authority is vulnerable, and the evening mass is left for a priest from another parish to perform – a stranger named Father Matamoros.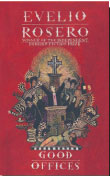 He arrives amid heavy rain and sings the mass instead of speaking it, which has not happened for over 40 years. The parishioners adore him for it, and to thank him, Tancredo and the three resident widows treat the priest to a lavish feast. Now filled with rich food, joyous mood, and the effect of the mass still lifting them, they let go of their inhibitions, confessing their sins and what happens behind closed doors in the parish. Needless to say, it's at this point that all sorts of unsavoury worms crawl out of the woodwork.
According to Evelio Rosero, literature can and should change reality. With Good Offices (translated from the Spanish by Anne McLean with Anna Milsom) he sets about doing just that in a hilarious narrative that makes the content palatable.
However, I still didn't get certain issues raised. The classic charismatic personality arriving and setting right was all well and good, but some aspects of the story were not brought to fruition (for instance, the weekly lunches which Tancredo described as 'hell on earth').
Upon finishing the book, I had a disquieting feeling of something I could not determine. Nonetheless, I reiterate here in line with a saying of my people, that a native doctor called in to cure a running stomach should not come only to be stricken by the same ailment.
I believe that what Rosero is saying here is that if one is in a position of influence or power, but most especially charged with upholding morality, it's given that that such a person's life must be exemplary. If the opposite happened to be the case, there's no telling what could accrue.
All in all, I think this book might help in raising our consciousness to the level where we could all be able to discern and choose to do what is right.