Tá dhá stát iar-Shóivéadacha ann nach léir do chách cad é an difríocht idir iad agus an Rúis féin: an Bhílearúis agus an Úcráin.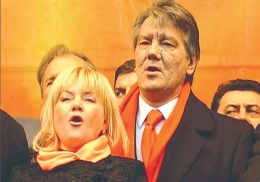 I ndeireadh Mhí na Samhna chaith an saol mór súil ar an dara stát acu, agus glúin óg na tíre ag léirsiú sna sráideanna ag éileamh go rachadh an stát leis an Aontas Eorpach in áit a bheith ag lorg comhoibriú leis an tsean-mháthairthír, an Rúis féin. Tá bá ag uachtarán na hÚcráine leis an Rúis, áfach, agus mar sin fuair na daoine óga iad féin faoi ionsaí ag na póilíní.
Bhí an Úcráin riamh idir eatarthu mar thír. Nuair a bhí na himpirí ag rialú na Rúise, ní raibh sé ceadaithe ach Malorossiya, nó an Mhion-Rúis, a thabhairt ar an Úcráin. Bhí difríochtaí móra teanga, cultúir agus meoin i bhfeidhm idir dhá leath na tíre. An cineál canúintí a labhraítí san Iarthar bhí siad go mór faoi thionchar na Polainnise, ós cuid den Pholainn a bhí sna críocha sin ar feadh i bhfad. Ón taobh eile de bhí oirthear na tíre go mór faoi chois ag an Rúis. Bhí iarthar na tíre á rialú ag an bPolainn arís idir an dá chogadh domhanda, ach ba leis an Aontas Sóivéadach a thit sé sa deireadh.
Nuair a bhí na Sóivéadaigh i gceannas ar an Úcráin, ní raibh mórán féidearthachtaí ag muintir na tíre a dteanga féin a shaothrú. Ní raibh an stát Sóivéadach chomh tréan in aghaidh na hÚcráinise mar a bhí Rúis na nImpirí, ach san am chéanna ba é an dearcadh neamhoifigiúil a bhí ag an stát ná nach raibh sa teanga ach cineál canúint bhéaloidis nach raibh maith ar bith inti le haghaidh gnóthaí tábhachtacha nó praiticiúla. Bhí leabhair agus irisí ag teacht i gcló sa teanga, ach má bhí, caitheadh aistritheoir Úcráinise an úrscéil chlasaicigh Rúisigh An Cogadh agus an tSíocháin le Tolstoy i dtóin phríosúin mar "náisiúnaí" dainséarach.
Thuig muintir na tíre cá raibh a leas féin agus chuaigh cuid mhór de na hÚcránaigh leis an Rúisis mar theanga labhartha. Chuir siad a gcuid clainne i scoileanna Rúisise, agus thosaigh an teanga dhúchais ag cúlú. Níor tháinig feabhas ar na cúrsaí ach le hathghabháil an neamhspleáchais, agus ansin féin bhí stádas na hÚcráinise mall go leor ag athrú. Nó bhí cuid mhór de mhuintir na tíre tar éis deireadh súile a bhaint dá dteanga agus dá gcultúr féin, agus iad ag déanamh a gcuid féin den Rúisis agus den Rúiseachas.
Mar sin is féidir scoilt áirithe a aithint ar shochaí na hÚcráine i gcónaí. Tá siad ann ar fearr leo a dteanga agus a dtír féin a bheith acu, agus iad ag iarraidh teacht slán ó lámh thapaigh na Rúise agus nasc a cheangal d'Iarthar na hEorpa. An chuid eile áfach, tá siad tar éis a ndúthracht a chaitheamh leis an Rúis cheana féin. Agus dealraíonn sé nach bhfuil comhréiteach ar fáil don dá dhream seo.

Scríbhneoir Gaeilge ón bhFionlainn é Panu Höglund a bhfuil staidéar déanta aige ar an Rúisis agus ar an bPolainnis. Tá sé in ann Úcráinis a léamh.


Is there still life in Ukraine?

Panu Höglund

There are two post-Soviet states that are so similar to Russia in language and culture that many of us can't see the difference: Belarus and Ukraine. Towards the end of November the world was watching the latter, with the young people of the country demonstrating for closer ties with the European Union rather than co-operation with the old motherland. The president of the country is more sympathetic with Russia, however – a fact that resulted in demonstrators being harassed by police.
As a country, Ukraine has always been kind of in-between. When the czars were still ruling Russia, you were not allowed to call Ukraine by its own name, but Malorossiya (Little Russia). There were great differences between the two halves of the country: in the western part, heavily Polish-influenced dialects were spoken, because these parts had belonged to Poland for a long time, while the eastern part had been under Russian sway. Poland again ruled western Ukraine during the interwar years, but in the end even those provinces were conquered by the Soviet Union.
When the Soviets were in charge, there were few possibilities for the people of Ukraine to develop their language. The Soviet state might not have been as categorically opposed to Ukrainian as was Imperial Russia, but at the same time the unofficial attitude of the state was that the language was just a kind of folklore dialect and that it was no good for serious business. Books and journals were published in Ukrainian, but even the Ukrainian translator of the Tolstoy's classic Russian novel War and Peace was imprisoned as a dangerous 'nationalist'.
Ukrainians saw what was in their best interests, with many of them preferring Russian as a spoken language. They put their children in Russian-language schools, and the ancestral tongue started to recede. Things only improved with Ukraine regained her independence in 1991, and even then the status of the language was slow to recover, for lots of Ukrainians had already given up hope for their own language and culture, adopting Russia's language and culture as their own.
Thus, a certain split can still be observed in Ukrainian society. There are Ukrainians who prefer to have their own language and country and who are trying to break free from Russia to forge closer links with western Europe. The others, though, have already committed themselves to Russia. And there seems to be little room for compromise between them.

Panu Höglund is a Finnish writer of books in Irish who has studied Russian and Polish. He can read Ukrainian.