Agata Stoinska knew a little of what to expect when she set up her own creative studio in Dublin's north inner city. Having previously worked in the area, she was familiar with the stereotypes of crime, gang violence and hostility to outsiders.
But not wanting to be seen as a bohemian interloper in a working-class stronghold, she was determined to build bridges with the local community.
"I knew I had to be friendly, despite being a bit scared," Stoinska explains. "But I was an intruder too. I was afraid that my studios might become a target. They were thinking, who's this? An artist! A Pole!"
Plans to welcome her new neighbours to her D-Light Studios on North Great Clarence Street came a cropper when things got busy and introductions were delayed.
"Before they knew me they had an opinion about me," says Stoinska. "That caused some tensions. They thought I would destroy the peace and order on their street. And I was afraid the children playing outside would interfere with my work!"
But after a rocky start, both sides have gained mutual trust, combating their prejudices – and Stoinska is now a part of the community, despite the odd hiccup.
"We have some problems with boys kicking our door," she notes, "but usually one of the neighbours comes to us and says 'Don't worry, I'll sit and watch today, and you'll feel safe."
Now some months after opening her studios, Stoinska loves the building and the opportunities it creates. "It's old but it has character and is inspirational. It would be a sin not to use it," she says.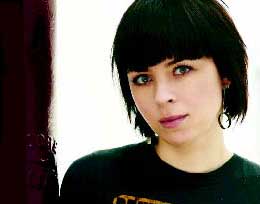 The Polish photographer rents the space to TV stations, photographers and dance companies, as well as for stress management classes. But she also hopes to start a local arts community centre with photography and painting workshops, and has already made contacts with the local councillors and community activists to identify the needs and spread the word.
"Perhaps we will discover a great talent," she says. "Or maybe we will just enrich someone's life."