He may be a long way from his last post in Hawaii, but the new Filipino ambassador tells Catherine Reilly he's at home here among the Irish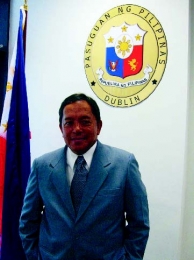 'WHAT STAR sign are you?" wonders Ariel Y Abadilla, the new Filipino ambassador, when he reaches the entertainment page of Metro Éireann, replete with horoscopes. He – for the record – is a Capricorn. "Step outside what you're working on," is the cosmic advice, "and see it from a wider perspective."
"Maybe it means I should go outside and enjoy the sunny weather," kids Abadilla, whose down-to-earth persona will no doubt be appreciated by Ireland's 12,000–strong Filipino population.
But make no mistake: this bubbly diplomat has a serious side. A Manila-born law graduate, he worked his way up the ranks of the foreign ministry, serving in various posts in the United States, and becoming consul-general in Hawaii before his historic dispatch to Dublin.
Abadilla is "humbled and honoured" to have been chosen as the Philippines' first resident ambassador in Ireland, and although Dublin isn't quite the same as Honolulu weather-wise, he suggests that the Irish people's warmth is ample compensation for the rain showers ahead. The native locals have even helped him with his office-hunting.
"When I was looking for an office I asked people walking by who might be familiar with the area, and they spent five or 10 minutes telling me about the place," he recalls. "It's not like some other places in the world where you approach somebody and they say 'no' and walk on. I've found the Irish people to be very friendly and very helpful."
The ambassador isn't without his connections to this country. Irish priests who'd emigrated to the US were among his teachers at the Jesuit Ateneo de Manila school: McNally, Sheehan, Gough, he lists off the names – and recalls how their Irish accents still broke through, especially in more heated moments.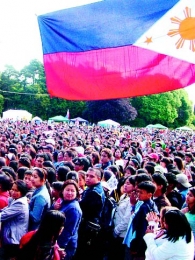 "They were really not Americans in the sense that their accent was different from the American-born or raised priests. You could make it out, especially when they got mad at you!"
The priestly connection is something Abadilla is pursuing, having visited the head office of the Columban fathers in Manila earlier this year in preparation for his Irish assignment.
"I had a chat with them, and they were saying that many of the Irish missionaries are concentrated here [in Dublin]. And I want, in the very near future, to visit the retirement homes of the priests who served in the Philippines."

Having arrived here in late June, it's been a hectic few weeks for Abadilla. The Philippine embassy is temporarily based at the end of Sir John Rogerson's Quay in Dublin.
By this week, the ambassador says it will be "70 per cent operational" in terms of consular services, and will aim for same-day or next-day passport processing.
Five people currently work at the embassy, but Abadilla hopes to raise this to nine within six months, and ultimately up to around 15. He says his team are "well qualified" and will rise to the challenge.
Immediate targets in the coming weeks are to secure a permanent office and additional staff, and like any embassy, bettering trade is also on the agenda, with Ireland currently exporting more to Philippines than the reverse.
Abadilla will also seek a meeting with Irish Government officials on immigration matters when he knows more about what "the major and minor problems" are for Filipinos.
The size of Ireland's Filipino community – estimated at around 12,000 but possibly higher – hasn't taken Abadilla aback, as he was briefed before his arrival. But the ambassador has been happy to note that they are "one solid community" and are "a credit" to their country – none more so than the massive contingent of Filipino nurses, who have cemented a place in Ireland's health A-Z.
What is it about Filipinos that has made them so famous for being overseas nurses? Aside from the economic push of emigration (around 11 per cent of the Philippines' population work overseas), the ambassador suggests that the close-knit family environment in his homeland has cultivated a spirit of caring – and a conveyor belt of nurses, most of them highly trained.
"I believe it's because of our innate, compassionate, caring attitude for other people. It's something that developed within the families, it's part of the culture," says the ambassador. "In the Philippines, there is a term called bayanihan that means concern for others, the coming together of the community."
He says that in times gone by, this spirit was exemplified when communities would come together to help neighbours move their timber and bamboo-composed houses. The houses – "mobile homes without wheels" is Abadilla's apt description – would be lifted up onto poles and brought to their new locations. The scene is captured in many Filipino paintings.
But some would say that a caring spirit has not been extended to many Filipino nurses, who are now having contracts terminated despite endless promises when they were lured to Ireland.
The ambassador, adopting a suitably diplomatic position, suggests that the nurses are not in the worst position, as their service is not one which could be reasonably outsourced.
"All the countries will move on from the economic downturn," he says. "And the people will always need medical care so they will never be out of work for long, either here, in other countries or the Philippines. Humanity always needs certain types of services."
Returning to the Philippines is an option for some, says the ambassador, though he concedes that wages will not match those in Ireland or other western countries, and that it will be "some time" before this is rectified.
"If they go back they'll likely find a job in the same profession, but it may not be to the same wage level. But they'll certainly have a higher paid job because of their foreign experience.
"The administration and the government have been trying to do that [raise wages]. It's a matter of economics. A matter of budgeting and economics. The more people you have, the more resources the government has to allocate."

As for the ambassador, he'll be going nowhere over the next few years, with Ireland well and truly home. The nature of diplomatic life means he misses old friends – a bunch of whom called The Thursday Club meet in Manila every week (on Thursdays, obviously), but Abadilla's obvious energy for his new assignment will fend off any homesickness.
And as for his native cuisine, he's already well catered for. "A couple of good Filipino restaurants are here and they are excellent," he says.
Indeed, he plans on bringing some national staples to the retired missionaries – evoking memories of a country they once called home.